5 Reasons to Love Blue Velvet Sofa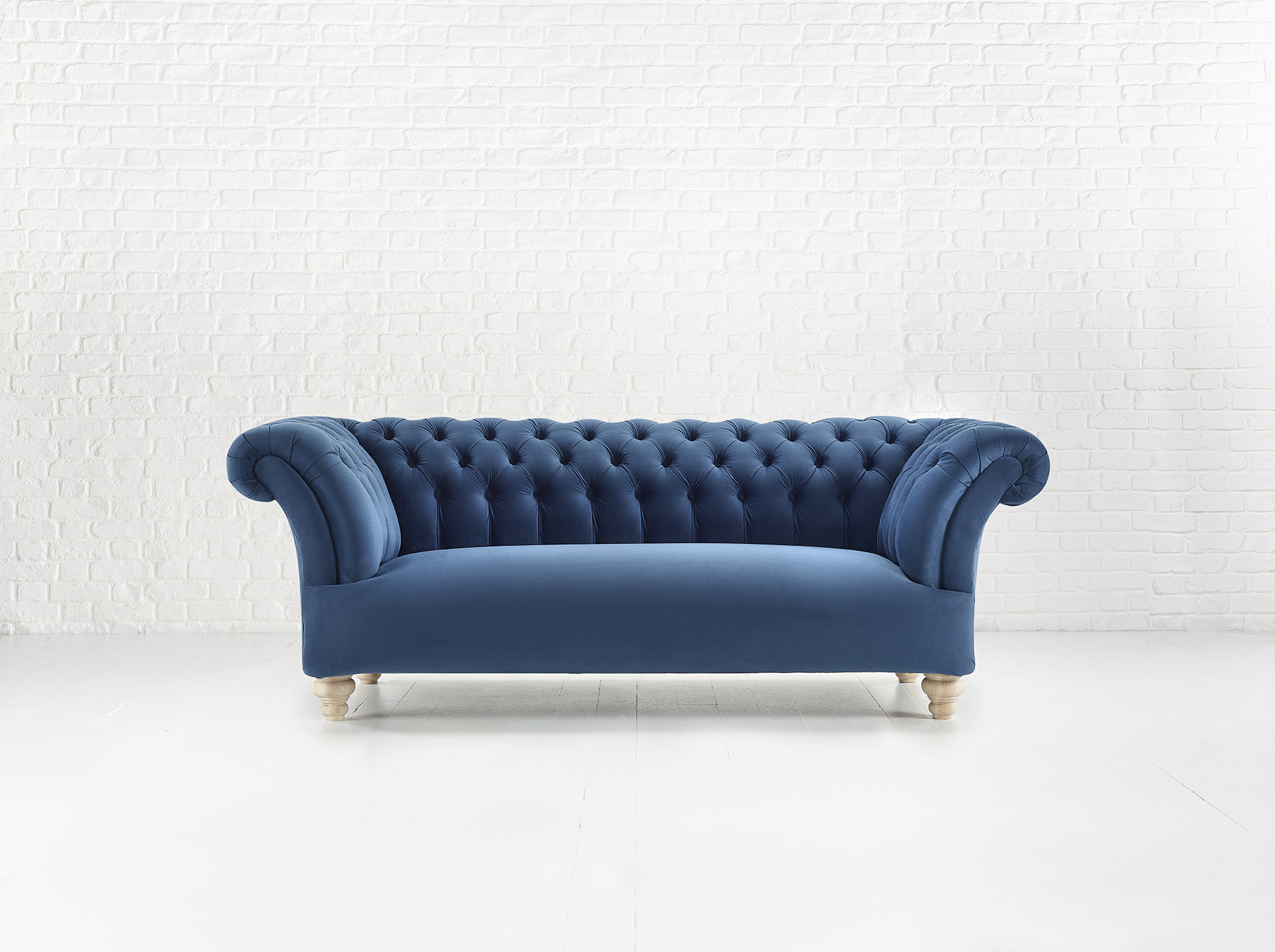 Any home is incomplete without a comfortable, stylish and homely sofa, living rooms and lounges especially. When it comes to sofas, it's not all about luxury but comfort, color and texture; all these things matter! A sofa should be comfortable as well as hitting the desired style for your space.
In the following blog we are sharing our top 5 reasons to love a Blue Velvet Chesterfield Sofa, and how to style this bold and beautiful choice in your home.
Blue is Cool!
Every color has a psychological meaning and blue brings with it a calmness, peace, security and an overall coolness. Interior designers use colors to not only reflect the aesthetics and style in homes but to project moods and feelings into a space. Blue creates the perfect calming spaces for anxious and stressful minds, enabling relaxation at home. Blue has been known to have positive effects on people suffering from blood pressure, heart rate and stress related health concerns, creating a relaxing haven for relaxation. Soothing effect of blue shades enhances your creative thinking. It's also a colour which promotes and inspires creativity, bringing a burst of vibrancy into a space that is lacking a creative flare.
Velvet has a fascinating historical background, offering a feeling of luxury into a space and it's easy to see why, with frequent feature amongst Royal furnishings and artefacts. Historically, velvet originated in China during the 13th century. It was exported and sourcedby the wealthy people due to its worth and cost. Velvet has been a symbol of royalty for centuries, and has retained its relationship with luxury even now. The soothing effect of blue as a color adds to the soft luxurious texture of velvet. Used in the right sofaBlue Velvet effortlessly adds style and comfort to your room. Blue enhances the luxurious and stylish appeal of velvet and gives rooms a sophisticated look that reflects a togetherness in a space. Blue velvet sofas bring a glamorous look and luxurious touch to any space, and are surprisingly versatile to style and complement. If you are looking to inject some luxury into your space, what are you doing without a Blue Velvet Sofa in your home?
Blue is a calming, welcoming and incredibly versatile color that suits almost every shade available inhome decor. It brings a burst of vibrancy to simple white walls and equally suits wooden floors and furniture, white, black, muted green, silvery gray, orange and even tantones used in interior design. Considered a perfect match for almost every color theme, Blue works especially well against grayish walls and wooden finishes. Other winning combinations include blue velvet sofas with bright yellow or hot pink shades. A navy blue velvet sofa in the middle of your room can command the room and capture total attention, causing any guests to be impressed.
Velvet is a soft fabric which despite its delicate touch, is surprisingly durable. The rich and luxe surface of a blue velvet sofa makes it irresistible to move your hand over the fabric, feeling the quality for yourself. Just imagine you've have a long day and your body's calling out for some well needed rest. What could be a better choice than a soft, comfortable, cozy velvet to add an extra comfort to your sofa?
A good quality fabric adds a welcome boost of comfortability, durability and softness to any sofa. When we talk about sofas, it's important to consider not only design, but quality is too. If you want to combine comfort with luxury, one of your best choices would have to be a velvet sofa. As the quality of velvet combined with modern manufacturing processes guarantees the quality of your piece.
We know you are probably conscious about your sofa's durability, and longevity. Especially when you have a busy family home. Usage becomes much more than most sofas will be built for, causing caring for the sofa and its cleaning requirements to be considered more often. It is a popular misconception that cleaning and maintaining a velvet sofa is very difficult. You just have to brush it to clean, dust at least once a week or use your vacuum with a hand nozzle to remove general surface build up. Generally, velvet is designed in a way that it shows resistance to the liquids and other stains. With velvet clean up can be as easy as dabbing a piece of cloth to clean the liquid out of the surface of your sofa. Moreover, it is very practical and durable for busy family homes, homes with four legged friends or even rented accommodation. Unlike other types of fabrics, velvet doesn't contain loose threads or raised weaves that makes it ideal if you are using it with your children or pets.
Conclusion
Furniture is a necessity for any household and the perfect sofa is an important element of it, adding charm, comfort and practicality to any space. Design choice often mirrors personality and conscious people will naturally be drawn to things that suit their personal style. So if you are looking for a comfortable, luxurious, stylish, good quality sofa, a blue velvet sofa may be the best choice to consider. Blue is a versatile color that makes you feel relaxed, calm and fresh while velvety fabric creates a lavish look and soft touch. Your taste will shine effortlessly with a Blue sofa, remaining versatile enough to change your interior to follow most trends for time to come. What are you waiting for? Start looking for your perfect Blue Velvet Sofa today!